Last-gasp for the convertible F-Type packs plenty of old-world charm
The latest round of model-year updates for the F-Type will be the last as Jaguar gears up for an all-electric future.
Production is expected to cease in early 2024, and that will mark the end not only of the F-Type but three-quarters of a century of the British brand building petrol-engined sports cars – a history that stretches all the way back to the XK120 of 1948.
It's a legacy of which Jaguar is rightly very proud. It's also a milestone that was too good to miss for Jag's marketing department, and that largely explains the existence of the new F-Type 75.
There has been little in the way of re-engineering here; this is effectively the same facelifted car that went on sale in 2020, save for a few software tweaks to meet the latest round of emissions standards.
Instead, the F-Type 75 has what Jaguar describes as a 'carefully curated' specification. Gloss black 20in alloy wheels (five-spoke on this P450 and 10–spoke on the more powerful P575 R) fill the arches, while the badge on the grille has also been painted black (it was previously red).
There's more: Giola Green metallic paint (pictured) joins the colour palette, 12-way adjustable Windsor leather seats (heated and cooled) now come as standard and there's a handful of F-Type silhouettes on the front wings, sill plates and dashboard.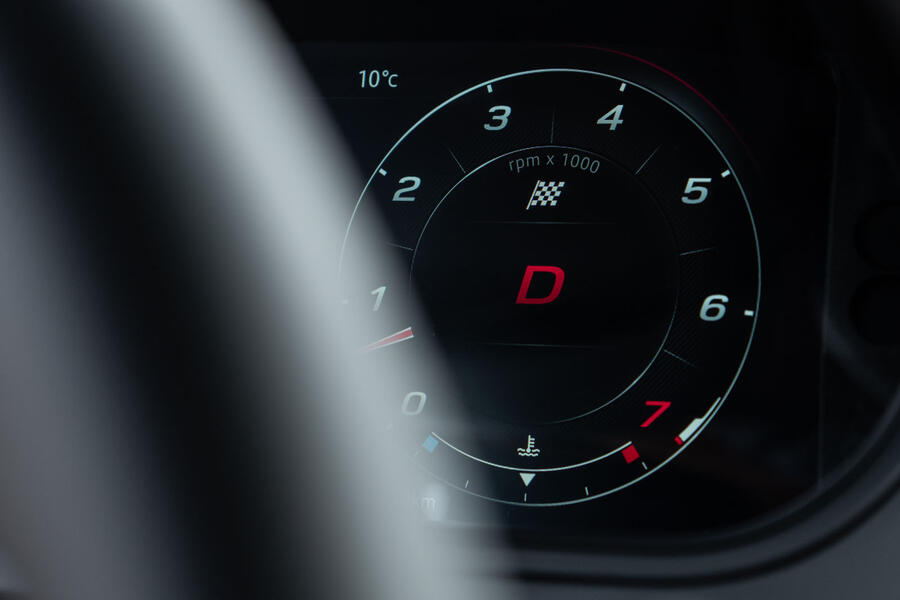 Nothing that's going to elevate the F-Type above newer, more capable offerings, then, but this is a timely opportunity to reconsider if a generously equipped V8 F-Type is still a good buy (if you want a V8, it will be a 75 edition, although the 2.0-litre P300 remains on sale in lower-spec R-Dynamic form).
The supercharged 5.0-litre engine is as strong as ever. We drove the 444bhp F-Type P450 Convertible in rear-wheel-drive form, understudy to the indecently rapid 567bhp P575 R. The lesser motor needs plenty of revs before really coming alive, but that just means you can leave your foot in for longer and enjoy the noise it makes.
Since the introduction of a petrol particulate filter a few years back, driving an F-Type hard is no longer quite the eardrum-maiming experience it once was. These things are relative, though: this is still a hilariously loud car, especially with the sports exhaust turned up to full volume and particularly when there's no roof getting in the way.
It's as quick as you would really want it to be, too, because the F-Type isn't really the lightweight, nimble-footed type of sports car. With fluids and a driver, the Convertible P450 is knocking on the door of 1800kg (for context, the Porsche 718 Boxster GTS weighs 1480kg and the Porsche 911 Carrera Cabriolet 1650kg), and that conspires with other factors to prevent the Jag from conjuring the last word on outright agility and poise.
Dial in Dynamic mode and you feel the suspension stiffen and the steering weight up, but there's still a hint of softness about the handling responses that you wouldn't experience in, say, the 911 Cabriolet. Crucially, though, while this does slow you down a bit along acutely meandering roads, it doesn't detract from what's fundamentally a playful and engaging experience.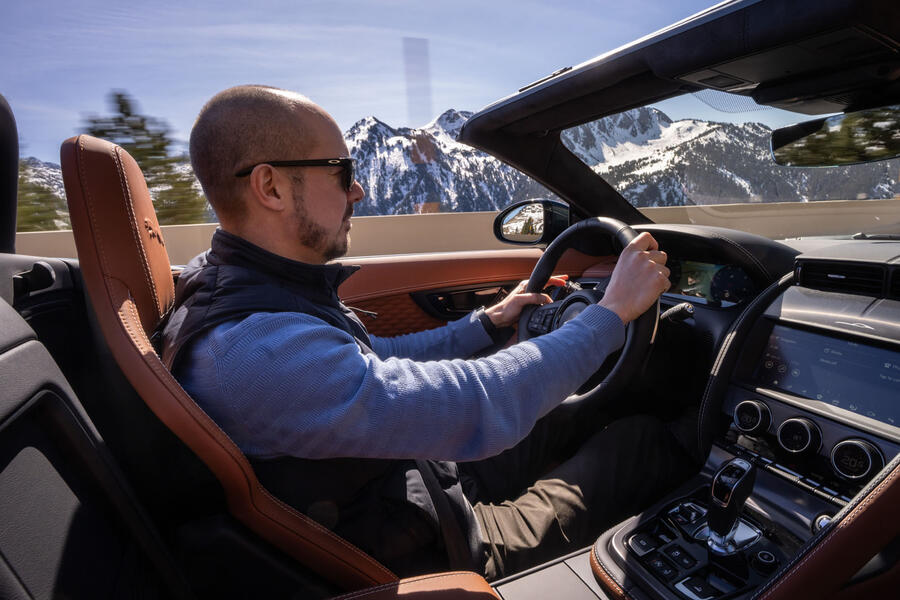 Despite those 20in rims, the F-Type 75 rides fairly quietly and, when the dampers are set to Normal mode, with a good degree of suppleness. Long distances are dispatched agreeably, where the softer side of the car's chassis tune comes into its own.
The tiny wind deflector between the roll hoops does an admirable job of keeping out bluster, too.
If you're tempted by the F-Type's old-school charms, I reckon a hard or soft-top P450 in rear-drive form is the way to go. The range-topping R (especially the Coupé) is a more serious machine but also has a much more serious price tag of north of £100,000. That sort of money that would get you a lot of 911.
Not that the P450 is exactly a bargain: it's still priced well above the Boxster GTS. Discounts will narrow that gap significantly, though, and the F-Type's more relaxed, easygoing nature, noisier (if not necessarily stronger) performance and enduring elegance gives it almost as much appeal today as a decade ago.